Penang Seminar Sept 2012
Article by Dan Knight added on 29 Aug 2012. Last updated on 18 Nov 2012.
Learn traditional Wing Chun Kung Fu!
Taught by Grandmaster Samuel Kwok himself
No matter what your experience of background this seminar will enable you to learn new skills and and meet new people and have a great time.
Penang Seminar Malyasia
Date: 22nd and 23rd September 2012
Saturday and Sunday
Location: Penang Malaysia ( venue to be announced to seminar attendees )
Time: 1 - 6 pm
limited place, so get yours reserve now

Cost: only RM 600 per person for 2 days seminar, total 10 hours
Certificate of Attendance and seminar Tshirt will be given
Special price for Grandmaster Samuel Kwok's books and dvds, personally signed by the Grandmaster himself

The Event Format:
Total of 10 hours training over 2 days covering Wing Chun Principles, Techniques, Sticky Hands (Chi Sao),Fighting applications For this event there are no special skills needed, beginners, intermediate students and instructors all welcome!
Terms:
Ticket is non refundable and to be paid in full, reserve your place today
contact Sifu Aaron Boey K Hg
email: aronboeykok@gmail.com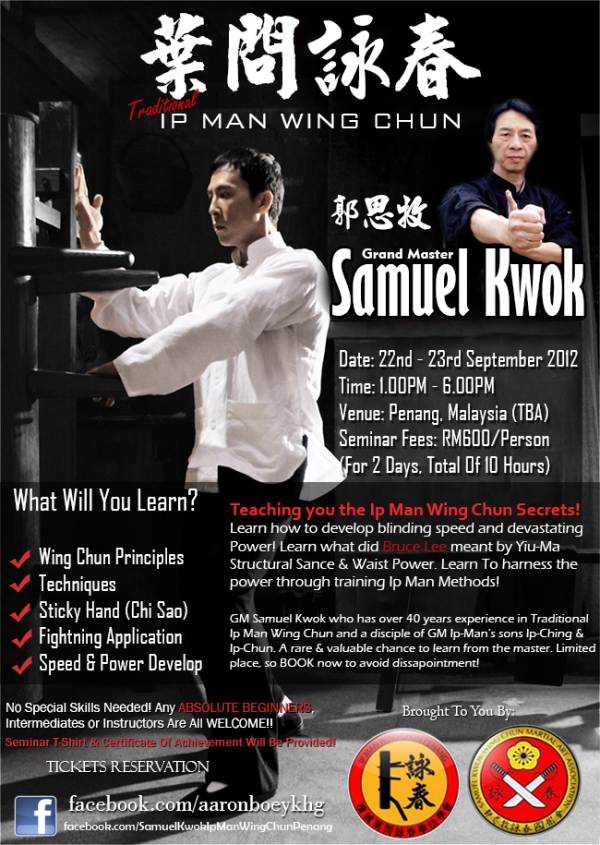 Tags for this article:
Ways to share this article:
Tweet